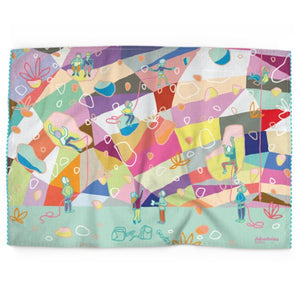 Climbers ahoy. If walking uphill wasn't difficult enough, this is for the heights non-impaired and the impaired all the same. 

Your cotton-linen tea towel is 100% natural, made from a blend of real cotton and linen. The yarn used is pesticide free, making this traditional tea towel more eco-friendly than paper towels.
228 gsm fabric printed edge-to-edge

70 x 50 cm

wavy blue trim around the edges

made in the UK

printed using eco-friendly inks and reactive printing methods that infuse the fibre with ink, meaning brighter colours for longer.
Printed all over with reactive printing
Elastic hanging loop
2 year guarantee 

on the stitching & material
In order to ensure that your tea towel retains its intense colours for a long time, wash on a cold wash on delicate setting or hand wash and dry flat.